+

+

+

+

+

+

+

+
3M Products

+
Evoluent Products

+
Mouse Arm

+

+

+

+


+

+

+

+

+

+

+

+

+

+

+



Comfort 33 key Water Proof NUMBER PAD KB-33


-FULL SIZE 33 KEYS NUMBER PAD.
-Connect to any Laptop, PC , Apple and SUN.

Numeric keypad can be positioned on the left great for left-handers


The CK USB Number Pad is not a unique product in terms of input... keyboards have been designed with an integrated version for many years. However, CK offers this USB numeric keypad as an easily-positioned, disconnected addition to your existing layout.

Especially for data entry personnel (ones that don't take full advantage of our Comfort Keyboard Signature Original), this standalone PS/2 / USB input device for numerical entry , here is your chance to get left-handed (or rather, ambidextrous) data input device that will keep you from hunching to the side over your traditional keyboard while spending long hours working on those spreadsheets, data entry applications, or processing accounts...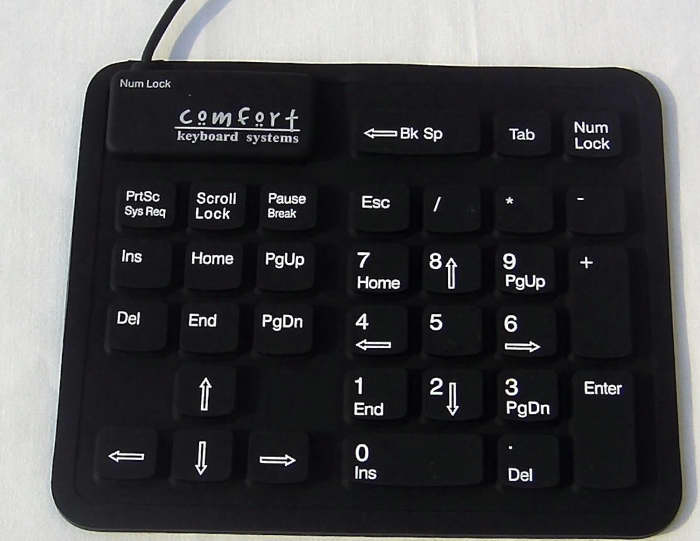 FULL SIZE Number Pad 33 keys
High quality Rubber key switchs.
Switch life: 20,000,000 duty cycle
Water Proof.
PS/2 + USB model
OS (OPERATING SYSTEMS) SUPPORTED / REQUIREMENTS




IBM or IBM-Compatible PC Hardware

Win 95/98/ME/XP/2000 + PRO & Windows Vista
Apple, & SUN systems

USB support native to the system


WHERE TO BUY A CK USB NUMBER PAD




Please call Comfort Keyboards at (414) 434 1022